+917259263622

Send Inquiry
FRP Insulated Panels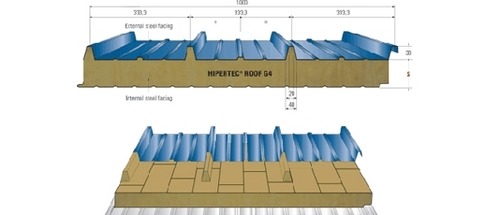 FRP Insulated Panels
Backed by rich industry experience and advanced infrastructural facilities, we have emerged as one of the leading manufacturers and suppliers of wide array of FRP Insulated Panels. These panels are manufactured by using premium quality FRP materials procured from some of the most leading vendors of the market. The offered FRP Insulated Panels are widely used in portable cabins, food industries, hospitals and laboratories. Further, this range is highly acclaimed for its high insulation value, light weight and water proof nature.
Applications:
Cold Rooms/Cold Storages
Telecom Shelters
Clean Rooms
Industrial Buildings
Portable Cabins
Food Industries
Hospital and Laboratories
Advantages :
High Insulation Value
Excellent thermal and acoustic properties
Lightweight
High strength to weight ratio
Termite proof / anti fungus
100% Water proof
Environment friendly
Pre-fabricated Composite Panels or Insulated Panels for Roofing & Cladding are Sandwich Panels manufactured with profiled Color Coated Metal - Zinc Coated / Galvalume Coated Steel Sheets or FRP / GRP Profiled Sheets duly Sandwiched with PUF (Polyurethane Foam) as the insulation material.
The Panels are available in various colors and total thickness of panel range from 30 mm to 100 mm. The PUF Panels are ready-to-install and self supporting with high overall stiffness.
ADVANTAGES & ESSENTIAL FEATURES
Very high thermal insulation - Superb thermal efficiency & rigidity.
Ready-to-Install and self supporting.
Inner and outer skin in Pre-coated GI / Galvalume / FRP Sheets are resistant to extremes of Weather & corrosion.
Very light weight to high strength ratio.
Ease of handling & installation.
For Roofing & Cladding provision of specially designed overlap system to ensure water leak proof & airtight joints.
Vertical & horizontal Panels are provided with Tongue & groove joints to ensure air tight assembly.
Monolithically Constructed Panels, hence saving on support structure, no use of wire mesh or loose insulation / Glass wool to be fixed separately and ease of handling & installation with less of labour.
Withstand against storm, heavy rainfall, wind.
Sturdy enough for temperature (-180oC to +140oC).
Fire retardant and Self extinguishing.
Low maintenance.
APPLICATIONS :

Industrial Building & Sheds - Automobile, chemical, steel, cement, power plants, pharmaceutical, commercial building, godown, etc.
Telecom Shelters
Cold Storage & rooms.
Pre-fabricated Shelters / Defense Shelters.
RANGE OF INSULATED COMPOSITE PANELS
Insulated Roofing & Cladding Panels for pitched Roofs with minimum slope of 7 - 8%.
Insulated Roofing & Cladding Acoustic Panels.
Insulated Wall Panels with Tongue & Groove jointing system for use in Industrial, commercial, refrigerated rooms & Cold Storage.
Fixing accessories like flashings, corner joints and customized fittings.
DETAILS OF INSULATED COMPOSITE PANELS
Insulated Roofing & Cladding Panels are self-supporting Metal panel for pitched Roofs with minimum slope of 7 - 8%. Normally, recommended thickness for Top exposed external face in steel is 0.5 (TCT) mm and internal face in steel is 0.4 mm. The same sheets can be replaced as per utility in corrosive environment with FRP in 2 mm & 1.5 mm thick sheets respectively. The insulation used is PUF (Polyurethane).
INSULATION PROPERTIES OF PUF PANEL

S
mm

K
K.cal / M 2 - hc

U
W / M 2k

Panel Wt. Kg / M 2
0.5 + 0.4 mm (+ 5% Tolerance)

30

0.48

0.59

9.42

40

0.40

0.46

9.80

50

0.33

0.38

10.15

60

0.28

0.33

10.55

80

0.22

0.25

11.30

100

0.18

0.21

12.10
Specification :

Density

40 + 2 Kgs m3

Compressive Strength at 10% deformation

2.1 Kgs/cm3

Tensile Strength

4.0 Kgs/cm2

Bending Strength

4.2 Kgs/cm3

Adhesion Strength (Foam to Steel)

3.0 Kgs/cm2

Dimensional Stability (48 hours)

-25°C

0.1%

+38oC & 90% RH

0.1%

+100oC

0.4%

Closed Cell Content

90-95%

Temperature Range

-180oC to +140oC

Temperature Conductivity at 0oC (design value 0.020 k Cal/m-hr/oC or 0.023 w/m k)

0.018k Cal/m-hm/oC

Water Absorption

0.2% volume at 100% RH

Vapour Permeability (At 90% RH & 38oC)

0.8/0.12 GMS/HR m 2 as per IS 11239

Fire property extent to burn as per BS 4735

Max. 100 mm

Type

Self extinguishing