+917259263622

Send Inquiry
FRP Grating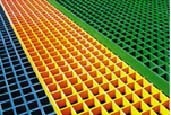 FRP Grating
Product Code : 18
Brand Name : Rooffit
Owing to our rich industrial experience and wide infrastructure, we are instrumental in manufacturing, exporting and supplying wide array of FRP Grating. The offered range is manufactured using high grade fiber reinforced plastic as per the international quality standards. This FRP Grating is well-known for its dimensional stabilty, easy installation and corrosion resistance. Further, this assortment is quality tested by our quality controllers to ensure its durable quality. In addition, this array is widely used flooring, trench & drain covers and platforms & walkways.

Features of FRP Gratings:
Excellent physical, mechanical/chemical & atmospheric resistance properties
Excellent electrical insulation properties
Dimensional stability
Excellent insulation properties with high impact strength
Self extinguishable with high level of safety
Minimal distortion and higher mechanical strength
Total elimination of maintenance cost.
Easy to handle, store & Install.
Corrosion resistant and fire retardant
Light weight, Long lasting and maintenance free
Suitable for horizontal & vertical layouts
Excellent strength - weight ratio compare to steel
Low thermal conductivity
Excellent temperature & weathering properties
UV stabilised
Anti-skid top surface
Application of FRP Gratings
Flooring
Trench & Drain Covers
Platforms & Walkways
Electrical Cable Trays
Stairways, Hand Rails & Ladders
Chemical Pipelines Carriage Trays
FRP Cross Arms for Electric Applications
All Load Bearing Structures using FRP Pipe, Angle, Channel & Girders
Technical Data :

Functions

Characteristic

Corrosions Resistance

The FRP Grating is suitable to be used in corrosive situations such as acid, alkali etc.

Fire Resistance

Self Extinguishable with high level of safety.

High Strength

Under equal application situation, it's weight is only 1/3 to 1/5 of steel, but it's strength reaches the strength of normal steel. The material function is different from plastic material (no obvious brittle failure. It's deform is changed along with the change of stress but no scaling relations between them. It fully absorbs impact force while keeping its shape because of its comparative smaller elasticity modulus. FRP Gratings are made of high quality fiber glass and resins. The product could transfer heat to release if added ultra-violet resistance material-having stronger aging-resistance function Have better anti-skid function and could prevent injuries from fall.

Electrical Properties

Being high insulation its dielectric strength is 100kv per inch, therefore, it could keep safe while walking on the FRP Grating.
Non-electric spark. Therefore, it could be used in such circumstances as mine combustion gas etc. For avoiding the accident caused by spark.
Non-Magnetism. The product could take the iron or steel grating and be used in the magnetism-sensitive circumstances.
FRP Grating initially will be more costly than iron/steel but, in the longer run due to its non-maintenance and longer service life will be more economical and durable.
FRP Gratings have low-life settle costs as compare to steel & other related products.
Mechanical Behavior
A deflection arrow equaling 1:150 of the span is considered standard in practice. The following table lists the maximum admissible loads for reaching this arrow as a function of the span.
Specification :

Span (m)

Distributed Load (Kg./m2 )

Concentrated Load (Kg.)




Section 25 mm

Section 30 mm

Section 25 mm

Section 30 mm

0.40

>5,000

>5,000

>5,000

>5,000

0.60

3,000

5,000

3,000

5,000

0.80

1,300

2,300

900

1,600

1.00

680

1,200

380

670

1.20

400

700

100

170

1.40

280

500

-

-